Did Poor Road Conditions Cause Your Car Accident?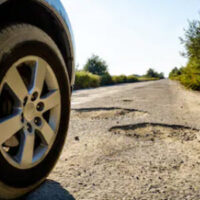 Most of us know how annoying it can be to drive on roads filled with potholes and other hazards. Poor road conditions can, however, be more than just minor aggravations, but can actually cause serious car accidents. Fortunately, when bad roadways cause crashes, injured parties may be able to file a claim against the entities responsible for maintaining that stretch of roadway. These kinds of claims do tend to be complicated, so if you were recently involved in an accident because of a pothole or other road hazard, it is important to speak with an experienced Maitland car accident lawyer about the ins and outs of filing this type of personal injury claim.
The Dangers of Poor Road Conditions
Most car accidents are the result of at least one driver's mistake. Poor road conditions can also, however, play a significant role in causing thousands of car accidents every year. Most are the result of one of the following causes:
A lack of maintenance, resulting in potholes, eroded asphalt, faded traffic lane markings, damaged guardrails, and obscured road signs;
A lack of paper signage warning drivers of sharp turns, inclines, and the lack of a shoulder; or
Flawed road design, such as overly short entrance and exit ramps, missing road shoulders, dangerous curves, road dips, and narrow lanes.
Poor road conditions aren't always the result of human error. Harsh weather, natural disasters, and the ongoing erosion of road surfaces and underlying substrate, for instance, can cause poor drainage, which in turn can become a hazard for drivers. This does not, however, absolve government entities and government contractors from their responsibility to ensure public safety by repairing and properly maintaining roadways.
Proving Poor Road Conditions
Most car crashes are assumed to have been the result of driver error, so it can be difficult to establish that a collision was caused by poor road conditions. Doing so is, however, possible, especially for those who conduct thorough investigations and collect convincing evidence by:
Documenting the roadway's condition;
Analyzing accident photos and police reports;
Collecting road survey records;
Obtaining evidence of complaints made by other individuals;
Working with an accident reconstruction expert; and
Obtaining eyewitness testimony.
An investigation will also help establish who is at fault for the road's poor condition, which could include everyone from a government agency to a private road owner.
Filing a Claim
Many defective road-related cases end up involving a claim against the government agency that was responsible for designing and maintaining the road. To be successful in these kinds of cases, a plaintiff will need to demonstrate that the agency knew of the dangerous condition, was negligent in addressing it (or failed to adequately warn drivers), and was ultimately responsible for the crash. Government agencies also have their own statute of limitations when it comes to filing a claim, meaning that injured parties must typically move much faster in pursuing legal action than if the defendant were a private individual.
Call Today for Help with Your Case
To speak with an experienced attorney about seeking compensation after your own collision, please call the dedicated Maitland car accident lawyers at Goldman Law, P.A. at 407-960-1900 today.
Resource:
flhsmv.gov/fhp/traffic/live_traffic_feed.html