Drunk Driving Accidents Are Different Than Other Florida Car Crashes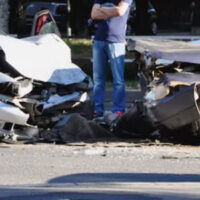 Car accidents caused by drunk drivers are a bit different than other kinds of crashes. Cases caused by drunk drivers, for instance, often involve both civil and criminal cases, while most car accidents are resolved via settlement negotiations or a civil suit. The damages awarded in DUI cases also tend to be higher, with many juries willing to award punitive damages to the victim in an effort to punish the defendant. Because of these differences, it is important for those who have been injured in drunk driving-related accidents, to work with a team of experienced Maitland drunk driving accident lawyers, who are well-versed in how to handle these kinds of cases.
DUIS Often Involve Both Criminal and Civil Cases
Most car accident cases are handled civilly, which means that the victim can seek monetary compensation from the at-fault party by filing a civil lawsuit. While attempting to prove negligence and seeking damages from the defendant, these kinds of cases don't involve any criminal charges, so even if a defendant is found liable, he or she won't face jail time.
DUI cases are a bit different, in that criminal charges can simultaneously be filed against the drunk driver who caused the accident, as driving while intoxicated is illegal in the state of Florida. If convicted, a defendant could face fines, jail time, and other consequences. These cases, however, won't result in any compensation for the victim, who will still need to file a lawsuit in civil court.  Fortunately, even if a criminal case doesn't result in a conviction, an injured party could still recover compensation in a civil case.
DUI Injury Damages
Those who are injured in accidents caused by drunk drivers are often able to recover compensatory damages, just as they would for any type of accident resulting from someone else's negligence. These damages include compensation for medical expenses, lost income, out-of-pocket costs, property damage, and pain and suffering. Victims of drunk driving accidents, however, may also be awarded punitive damages, which are specifically designed to punish defendants for grievous wrongdoing.
Potential Third Party Liability
Most car accident cases come down to which of two drivers was at fault for an accident. With drunk driving cases, however, the intoxicated driver may not be the only one who can be held liable for an accident. In these cases, injured parties can also seek compensation from commercial sellers of alcohol if they:
Sold or provided alcohol to someone who was under the age of 21 years old; or
Knowingly served a person who was habitually addicted to alcohol.
If the facts of a case support either of these situations, then a victim could seek financial compensation from both the drunk driver and the establishment that served that person before he or she got behind the wheel.
Let Us Help Protect Your Recovery
If you or a loved one were hurt in a drunk driving crash, you deserve full and fair recovery for your losses. At Goldman Law, P.A., our dedicated Maitland drunk driving accident lawyers will investigate every aspect of your case, while you focus on your physical and emotional recovery. Call us at 407-960-1900 or complete our online contact form today to schedule a meeting.
Source:
flhsmv.gov/driver-licenses-id-cards/education-courses/dui-and-iid/florida-dui-administrative-suspension-laws/