The Busiest Florida Interstates For Commercial Trucks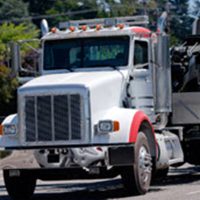 Most of us have grown accustomed to sharing the road with large commercial vehicles. However, in Florida there are certain interstates where seeing a large truck is especially common. Unfortunately, accidents also tend to occur more often on these roads, not only because of the higher number of trucks, but because of the high speed limits and dense traffic. In fact, according to the National Highway Traffic Safety Administration (NHTSA), six of the ten deadliest highways in the U.S. are actually located in Florida.
Interstate 95
The I-95 is one of four major interstates in Florida where a driver is more likely to encounter a heavy commercial vehicle. This interstate runs along Florida's coastline starting north of Jacksonville, running down to Daytona Beach, and continuing on to south Florida. It is one of the longest interstates in Florida and the number of large cities along the route means that there are usually a lot of commercial trucks on the road transporting cargo.
Interstate 75
The I-75 spans a total of 471 miles, cutting right through the middle of Florida, running from just outside Lake City in the north and on through Tampa and the Fort Myers area, at which point it turns to pass through Georgia, Tennessee, Kentucky, Ohio, and Michigan. Because it connects so many major cities, truck traffic tends to be heavy on the I-75, increasing a motorist's risk of being involved in a crash with a commercial vehicle. Besides being notorious for its congestion, this interstate is also well-known for having a number of safety issues.
Interstate 10
The I-10 starts near Jacksonville and cuts across the top of the state, before ending at the Alabama border just past Pensacola and is one of only two east-west interstates in Florida. It is also the fourth longest highway in the country, running across eight states for around 2,460 miles. The I-10 goes on through a lot of the southern states, making it a particularly popular route for truckers transporting cargo across the country. Most of the collisions on this interstate are the result of safety issues. Many, for instance, are caused by crossover crashes, which occur when motorists change lanes unexpectedly and there are no barriers between lanes to prevent it.
Interstate 4
The last of the four major interstates in Florida is the I-4, which starts in Daytona Beach, but winds its way southwest (for around 132 miles) to Orlando and Tampa. It is one of only a few direct routes from Florida's coast to the Gulf Coast, making it an important route for many truckers. In fact, it is considered one of the busiest interstates in the country and one of the most dangerous. Unfortunately, because there are few other roads that cover the same distance, this interstate tends to see a lot of travel from heavy trucks, which can be dangerous for occupants of smaller, passenger-sized vehicles.
Contact a Florida Truck Accident Lawyer
Unfortunately, it isn't always possible to avoid being involved in a truck accident. If you were hurt in a crash that took place in Florida, don't hesitate to reach out to the dedicated Altamonte Springs truck accident lawyers at Goldman Law, P.A. for help.
Sources:
wesh.com/article/interstate-4-named-most-dangerous-highway-in-the-nation/36148705#
wfla.com/news/florida/florida-has-13th-most-dangerous-roads-for-drivers-in-us-study-says/