The Most Dangerous Roads In Florida For Commercial Vehicles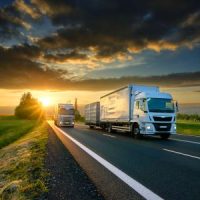 Highways and freeways are some of the most common sites for collisions between passenger vehicles and commercial trucks. Higher speeds, more traffic, and the presence of more trucks all significantly increase the chances that someone will be involved in a truck accident on Florida roadways. To help you avoid being involved in this type of collision, we've included a few details about some of the most dangerous highways in the state.
Interstate 95
Interstate 95 is one of the most dangerous highways in the state for motorists, with one of the highest fatality rates in the country. This trend has largely been attributed to increasing daily traffic counts, as well as a significant increase in road construction. As the main interstate highway on Florida's coast, the highway starts in Miami before heading through Jacksonville and to the Georgia state line, making it an important route for many truck drivers tasked with transporting goods to Fort Lauderdale, West Palm Beach, and Daytona Beach. Unfortunately, the increasing number of commercial vehicles on this interstate means that it is much more likely that other motorists will be involved in collisions with those vehicles.
Interstate 4
Although it only spans 132 miles in central Florida, Interstate 4 has one of the highest truck accident rates in the state. This is partly due to the fact that the highway is heavily traveled, not only by local residents going to and from work, but to millions of visitors. As the only interstate that runs east to west in Florida, the I-4 is also heavily trafficked by commercial vehicles, which, combined with excessive speed limits, a lack of alternate routes, and a lack of infrastructure, make this stretch of road extremely dangerous for Florida motorists.
Interstate 10
The I-10 spans most of northern Florida and is also the eastern end of only three coast-to-coast interstates, making it a popular highway for commercial truck drivers who are making cross-country trips. The highway runs east from Alabama through Pensacola and Tallahassee before terminating in Jacksonville. The I-10 has seen increased traffic in recent years, as interstate shipping has grown, leading to a higher likelihood of being involved in an accident on this busy highway.
Interstate 75
The I-75 runs for nearly 500 miles in Florida, making it the longest interstate in the state and the longest highway east of the Mississippi River. It has also become a popular route for truck drivers, as the route travels through Georgia and extends all the way to Michigan. A lack of updating has made this road dangerous for users, resulting in a much higher risk of secondary crashes and multi-vehicle pile-ups than other interstates.
Reach Out to a Dedicated Maitland Truck Accident Lawyer
Our dedicated Maitland truck accident legal team goes above and beyond for our clients, using our experience and resources to determine who was at fault for a crash and safeguard an injured party's rights to pursue compensation. For an evaluation of your own case, call Goldman Law, P.A. today.
Sources:
cbs12.com/news/local/truck-crash-shuts-down-southbound-i-95
cbsnews.com/miami/news/i-95-ranks-1-for-most-dangerous-highway-in-u-s/