What Is Florida's Serious Injury Threshold?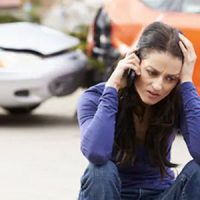 If you were hurt in a car accident and have moved forward with filing a lawsuit, you will probably hear a lot of legal language with which you aren't familiar. You have likely heard, for instance, of the "serious injury threshold," which is a standard that Florida uses to determine whether a claimant's injury is severe enough to warrant stepping outside of the no-fault auto liability system. Here's what you need to know about the serious injury threshold in Florida and how it could affect your personal injury claim.
Florida's No-Fault Auto Liability System
In Florida, motorists who are involved in car accidents must first submit claims with their own PIP insurance providers to obtain compensation for their medical bills and lost wages. This is true regardless of who caused the accident. Unfortunately, the limits of PIP policies are often quickly exceeded  except in cases of minor injuries, in which case, a claimant could find him or herself on the hook for accident-related expenses. One way around this problem is to step outside of the no-fault system and file a personal injury lawsuit in court. This, however, is only an option for those who can satisfy the serious injury threshold.
What is a Serious Injury?
If a Florida car accident victim can prove that his or her injury satisfies what is referred to as the "serious injury threshold" then he or she could be eligible to file a lawsuit against the at-fault party in court. To qualify as a serious injury under this standard, an injury cannot be minor, meaning that it heals quickly and without a great deal of pain and suffering or medical intervention. Under Florida's standard, an injury will only be considered serious if it:
Involves the permanent and substantial loss of a bodily function;
Is permanent;
Involves permanent and significant disfigurement or scarring; or
Results in death.
Severely broken bones, injuries to internal organs, spinal cord damage, burns, and traumatic brain injury may all qualify as serious for the purposes of filing a personal injury lawsuit in Florida. In most cases, to prove that an injury is serious, a claimant will need to provide medical records, test results, treatment plans, physician statements, and even expert testimony.
Filing a Personal Injury Lawsuit
Someone who sustained a serious injury in a Florida car accident has the right to file a personal injury lawsuit in civil court. Unlike settlements provided by insurance companies, civil claims can result in damages awards that compensate an injured party for medical bills, property damage, permanent disability, legal fees, emotional distress, and pain and suffering. In these cases, the injured party will, however, have to prove that the defendant's negligence was the cause of an accident.
Free Consultations Available
Car accident victims who sustain serious injuries often find themselves unable to pay off mounting medical debt, to obtain the treatment they need, and to otherwise meet their financial obligations while they heal. One way to address these problems is to file a legal claim against the at-fault party who caused the crash in the first place. To learn more about the standards and thresholds you'll have to meet to file this type of suit, please call 407-960-1900 and set up a meeting with one of the dedicated Maitland car accident lawyers at Goldman Law, P.A. today.
Sources:
leg.state.fl.us/statutes/index.cfm?App_mode=Display_Statute&URL=0600-0699/0627/Sections/0627.7407.html
leg.state.fl.us/statutes/index.cfm?App_mode=Display_Statute&URL=0600-0699/0627/Sections/0627.737.html