Motorcycle Accidents In Intersections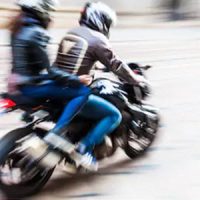 Motorcycle accidents that occur at intersections can happen for a variety of reasons, but most are the result of driver error, like running a red light, not paying attention, or violating another traffic law. Intersection accidents should always be taken seriously, as they can result in significant property damage and serious injuries, but those that involve a vehicle and a motorcycle tend to have particularly devastating consequences. Fortunately, injured parties who can demonstrate that another person's negligence was the cause of their crash, could be eligible for damages compensating them for their medical bills, lost wages, property damage, and pain and suffering.
Common Causes of Motorcycle Intersection Accidents
According to the National Highway Traffic Safety Administration (NHTSA), as many as half of all fatal motorcycle accidents occur at or near intersections. Furthermore, most of these crashes involve a vehicle turning left into the path of an oncoming motorcycle rider. These kinds of collisions are almost always the result of a negligent driver, who may have:
Run a red light or stop sign;
Failed to pay attention when entering an intersection;
Failed to check his or her surroundings or blind spots;
Failed to yield when making a left turn;
Been speeding or otherwise driving recklessly;
Been under the influence of drugs or alcohol; or
Fallen asleep at the wheel.
Whatever the cause of the crash, motorcycle intersection accidents often result in serious injuries, almost always for the rider, who doesn't have the benefit of seat belts and airbags, or even anything between him or herself and the asphalt. Whether struck head-on, broadside, or even rear-ended, it is the motorcycle riders who bear the brunt of the impact and who are most likely to suffer the worst injuries.
Motorcycle Intersection Accidents Result in Serious Injuries
The injuries sustained by motorcycle riders in collisions with vehicles are often serious and include:
Broken or crushed bones;
Road rash;
Lacerations;
Amputations;
Internal injuries; and
Traumatic brain injuries (TBIs).
Diagnosing and treating these kinds of severe injuries can be prohibitively expensive, especially for accident victims who are unable to work due to the seriousness of their injuries. Fortunately, accident victims who suffer serious injuries and who can prove that someone else's negligence was the cause of their crash, could be entitled to compensation for the cost of diagnosing their injuries, receiving ongoing treatment, and arranging for rehabilitative therapies. Besides being entitled to reimbursement for medical expenses, injured motorcyclists could also recover compensation for the wages they lost while recuperating, as well compensation for property damage, and even the physical pain and suffering they endured because of the crash.
Contact a Maitland Motorcycle Accident Lawyer
If you were involved in a motorcycle accident in an intersection and have questions about seeking compensation for your medical bills, lost wages, and property damage. Contact the dedicated Maitland motorcycle accident lawyers at Goldman Law, P.A. today to learn more about your legal options. You can reach us by calling 407-960-1900 or by filling out an online contact form.
Sources:
one.nhtsa.gov/links/GetUpToSpeed/index.html
ncbi.nlm.nih.gov/pmc/articles/PMC3217482/