Obtaining Reimbursement For Vehicle Repair Costs After An Accident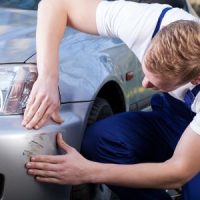 Even car accident victims who are fortunate enough to escape suffering serious injuries will most likely sustain some sort of damage to their vehicles. Unfortunately, many car accident victims are forced to contend with both injuries and vehicle repair costs. Recovery of these costs requires a careful evaluation of the damage to the vehicle, as well as proof of those expenses. To learn more about the valuation process and how to recover maximum compensation for your vehicle repair or replacement costs, feel free to reach out to our car accident legal team today.
Know Your Vehicle's Value 
It's a good idea to have an estimate of your car's value before an accident actually happens. There are a lot of guides that can help motorists figure out the current value of their vehicles. Kelley Blue Book, for instance, as well as the National Association of Automobile Dealers' Guide allow users to input information about their vehicles, such as the model, make, year, condition, and accident history to determine the general value of the car. This number is important, as it is only when the costs of repair end up exceeding the cash value of a vehicle that an insurer will label it as "totaled".
In these cases, a policyholder should be entitled to the book value of the vehicle, although it is sometimes possible to argue that a vehicle's parts are worth more than the total value of the vehicle. To succeed with this type of claim, a policyholder will need to submit strong evidence, like mileage records, invoices from mechanics, and the vehicle's service history to show that a particular vehicle was worth more than other cars of the same make and model. Otherwise, the claimant can seek reimbursement for the cost of repairs up to the limit of his or her policy.
Understanding the Claims Repair Process 
When an accident victim files a claim, his or her insurer will assign the case to a  claims adjuster. This person is tasked with verifying a policyholder's losses and making a determination on what it will cost to repair a vehicle. It's important to note that the adjuster's estimate is considered a benchmark and won't necessarily be the total claim payment that a policyholder receives. Furthermore, policyholders only have to accept an estimate once they've established that the amount will be enough to cover the cost of repair. In fact, most insurers expect policyholders to obtain at least one other estimate, besides their own, for comparison. At this point, claimants can attempt to negotiate with the insurance company until the parties reach an agreement on an amount that will be sufficient to cover repairs. Those who believe that their insurer is acting in bad faith can even file a legal claim against them in court.
Altamonte Springs Car Accident Lawyer 
To speak with an experienced Altamonte Springs car accident attorney about how to maximize your chances of recovery after a car crash, please call Goldman Law, P.A. at 407-960-1900 today.
Sources: 
iii.org/article/how-are-value-my-car-and-cost-repair-determined
flhsmv.gov/insurance/