Car Accidents And Child Passenger Injuries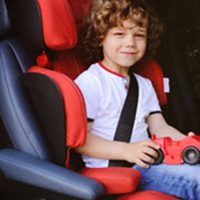 Car accidents can be devastating for everyone involved, regardless of how old they are. Children, however, often face different kinds of challenges than adults after a car crash. For instance, children tend to sustain different kinds of injuries than adults and also process their trauma in particular ways. For these reasons, a parent's attempt to recover compensation for their child's accident-related injuries can benefit from the oversight of a car accident attorney who has experience with the nuances of these kinds of cases.
Common Child Passenger Injuries 
While it is true that children are resilient, they are also more vulnerable to injury in certain cases, simply because of their smaller size. In other instances, safety features that were designed for adults, like airbags and seatbelts, could end up causing the very injuries (in children) that they were meant to prevent in adult occupants. The most common car accident-related injuries suffered by children include:
Head injuries, with contusions, lacerations, and skull base fractures occurring most often;
Thoracic injuries, including rib fractures and contusions and lacerations to the lungs;
Abdominal injuries, including small and large bowel injuries, which account for 30 percent of abdominal injuries in children between the ages of four and seven years old;
Upper extremity injuries, with humerus fractures and forearm fractures accounting for almost 70 percent of upper extremity injuries in children; and
Lower extremity injuries, such as pelvic fractures, which are common in children under the age of one years old and below knee injuries, which tend to occur in children between the ages of four and seven years old.
Unfortunately, the injury outcome for children who are involved in car accidents is often worse than for adults who sustain similar injuries. Head injuries in particular are notorious for resulting in long-term complications in child accident victims, who could suffer from neuropsychological problems as they age. Issues with social interactions and interpersonal skills, as well as reading and writing delays are especially common.
Preventing Child Passenger Injuries 
Because the injuries sustained by children in car accidents tend to be so severe and to have such far-reaching consequences, taking steps to reduce the risk of those injuries is particularly important. Using car seats and boosters of the proper size for the weight of a child, for instance, is critical. Car seats are thought to reduce the risk of injury in car accidents by between 71 and 82 percent for children, while booster seat use lowers the risk by 45 percent for those between the ages of four and eight years old.
Contact a Maitland Car Accident Lawyer Today 
If, despite your best efforts, your child was injured in a crash because of someone else's carelessness, you could be entitled to compensation for his or her medical bills and pain and suffering. For help navigating the legal process, please call Goldman Law, P.A. at 407-960-1900 and set up a meeting with dedicated and compassionate Maitland car accident lawyer Sarah Goldman Geise today.
 Sources: 
cdc.gov/transportationsafety/child_passenger_safety/cps-factsheet.html
crashstats.nhtsa.dot.gov/Api/Public/ViewPublication/811325