The Types of Negligence in Personal Injury Cases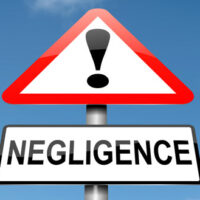 The legal doctrine of negligence is often the most significant aspect of a personal injury case, as it is typically necessary to prove negligence in order to obtain financial compensation for an injury. There are, however, a few different types of negligence under Florida law, making it especially important for accident victims to speak with an experienced Altamonte Springs personal injury lawyer who can evaluate their case and advise them accordingly before proceeding with their claims.
Standard Negligence
The most common type of negligence is standard, or general negligence, which refers to a breach of a person's duty of care. Most cases place a duty of care with at least one party. Motorists, for instance, have a duty of care to drive in a reasonable manner and to avoid accidents. Breaching that duty would involve taking an unreasonable action or failing to act in a reasonable way. If a driver breaches this duty through his or her carelessness, he or she can be considered negligent.
Gross Negligence
If there is evidence that a person didn't behave with casual carelessness, but acted maliciously with an intent to harm someone else or otherwise exhibited a wanton disregard for the safety of others, that individual could be found liable for gross negligence. Essentially, a person is grossly negligent when he or she engages in an action or behavior that is either meant to harm someone else, or is so dangerous that it creates a foreseeable risk of serious bodily injury to others. Plaintiffs who are able to demonstrate that their accident was the result of someone else's gross negligence could qualify for punitive damages, which, unlike compensatory damages, are intended to punish a defendant for particularly egregious behavior.
Vicarious Negligence
In some cases, it is not only the person who causes an injury that can be held liable for resulting damages, but also those who were responsible for that person's actions. This type of negligence, also referred to as vicarious negligence, is most common in cases that involve minor children or on-duty employees. If, for example, a child caused a car accident, his or her parents or legal guardians could be held liable for the injuries caused by that child, as they are responsible (to some degree) for the actions of their children. Similarly, if an on-duty employee causes an injury, his or her employer could potentially be held partially liable for the employee's actions.
Negligence Per Se
In a civil case, a person who is found to have violated a law that is specifically designed to protect a certain group of people can be held negligent per se. An individual who was driving under the influence and who caused a car accident, for instance, would fall under this category. In these cases, the injured parties are not required to prove fault at trial. Instead, a plaintiff need only demonstrate that a defendant's actions were the cause of his or her injury.
Proving Negligence in a Florida Personal Injury Case
An accident victim's ability to recover financial compensation for his or her injuries often comes down to whether that individual can prove negligence. To learn more about demonstrating negligence in your own case, please call Goldman Law, P.A. at 407-960-1900 today.