What You Should Know About Florida's Slip and Fall Laws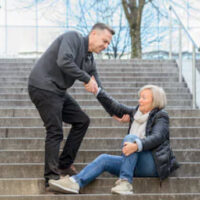 While many people associate the term slip and fall with an accident at a grocery store or a mall, the reality is that these kinds of accidents can occur just about anywhere and at any time. Fortunately, it is possible to recover compensation for losses suffered on someone else's property, so if you were recently injured while at a store, a public space, or even a private home, it is important to contact an experienced Maitland slip and fall lawyer who can walk you through the process of filing a claim.
Demonstrating Fault
Before an injured plaintiff can recover damages for a slip and fall accident, he or she must be able to prove that:
The defendant had a duty to keep his or her property free of hazardous conditions;
The defendant knew, or should have known, that the hazardous condition existed; and
The defendant's failure resulted in the plaintiff's injury.
Actual knowledge of a dangerous hazard can be difficult to prove. Fortunately, property owners can still be held liable even if they didn't have actual knowledge of a hazard, as long as there is evidence that they would have known of the defect's existence if they had used reasonable care in maintaining their property. Generally, if a defect is permanent, such as uneven flooring or a missing stair rail, a court will assume that the property owner knew about its existence. In fact, even if the defect was temporary, such as a spill, a property owner can still be held liable for resulting injuries if the spill was present for long enough that an employee should have seen it, or if similar accidents had occurred in the same area on prior occasions.
Damages and Causation
When a person slip and falls, physical injury is usually the primary harm that he or she will suffer. Fortunately, plaintiffs can recover compensation for physical injuries, including past and future medical bills and loss of income, as long as they can provide proof that a particular accident caused a specific injury. This in turn, requires convincing evidence, including photographs from the scene of the accident, eyewitness testimony, video recordings, medical records, and if necessary, expert testimony. Once this link has been established, a slip and fall victim could be entitled to damages for past and future medical treatment as well as pain and suffering.
In Florida, a person can recover compensation for a property owner's negligence even if he or she also contributed to an accident, although the plaintiff's damages award will be reduced. Finally, it's important to note that recovering monetary damages is only possible if a plaintiff files a claim before the statute of limitations expires, which in Florida, is four years from the date of the accident in question.
How a Maitland Slip and Fall Lawyer Can Help
If you were recently injured on someone else's property and have questions about your own legal options, please don't hesitate to call Goldman Law, P.A. at 407-960-1900 to learn more about how an experienced slip and fall lawyer can help with your case.