What You Need To Prove To File A Successful Slip And Fall Case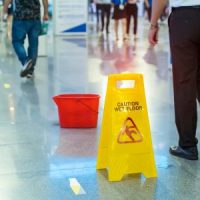 If you were injured in a slip and fall accident on someone else's property, you could be entitled to damages for your medical bills, lost wages, disability, and pain and suffering. This, however, is only possible for those who can prove that a property owner failed to fulfill his or her legal responsibility to visitors, which includes keeping the premises safe and free of hazards. This can be an arduous undertaking, so if you were hurt in a slip and fall accident, you should consider reaching out to an experienced Maitland slip and fall lawyer for help before filing your claim.
Proof of a Slip and Fall Injury
Before a person can recover compensation for a slip and fall accident, he or she will need to provide proof of an actual physical injury. For many slip and fall victims, these injuries include:
Bruising and contusions;
Soft tissue injuries;
Broken wrists, hips, knees, and elbows;
Dislocations of the hip or shoulder;
Lacerations;
Neck and back injuries; and
Traumatic brain injuries (TBIs).
Some of these injuries are more severe than others. Bruising and contusions, for instance, aren't usually serious enough to warrant a large damages award or settlement offer, while a broken bone or spinal cord injury would be taken more seriously. To recover compensation for the costs of diagnosing and treating these kinds of injuries, victims will need to provide proof of their specific injury by obtaining copies of medical records, bills and invoices for treatment, and even the testimony of a treating physician or other expert.
Demonstrating Fault
Even if a person can prove that he or she was injured on someone else's property, he or she won't be able to recover damages without also demonstrating the property owner's fault. To do so, an injured party will need to establish that:
The walking surface was damaged or uneven;
There was a slippery substance on the floor that was unmarked with signs;
There was insufficient lighting, which made hazards more difficult to see; or
There was improper security despite the area being a high crime area.
Besides proving that the hazard existed, a claimant will also need to establish that the property owner created or knew about the defect but failed to correct it, or would have known about the problem if he or she had been exercising the proper level of care in inspecting and maintaining the premises. A lot of different types of evidence can be used to prove this type of property owner negligence, including photographs from the scene of the accident, eyewitness testimony, security camera footage, other accident reports, and expert testimony.
Speak with a Maitland Sip and Fall Lawyer Today
To set up a meeting with a dedicated Maitland slip and fall lawyer, call Goldman Law, P.A. at 407-960-1900 today. We understand how difficult and stressful it can be to take on a business owner in attempting to recover compensation for slip and fall injuries. Fortunately, you don't have to bear this burden alone.
Sources:
cdc.gov/niosh/topics/retail/slips.html
leg.state.fl.us/Statutes/index.cfm?App_mode=Display_Statute&URL=0700-0799/0768/Sections/0768.0755.html