Did You Suffer An Airbag Injury?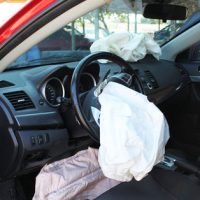 Airbags are an essential safety feature in modern vehicles, reducing driver fatalities by almost 30 percent in frontal crashes and by nearly 40 percent in side impact collisions. Unfortunately, even when they deploy correctly, they can cause serious injuries to the occupants of a vehicle. It is, however, often possible to recover compensation for these injuries from the at-fault party who caused the accident.
How They Work
As inflatable cushions that are installed in strategic locations throughout a vehicle, airbags shield occupants from the worst of impacts. The systems have sensors that, when they detect a crash, transmit a signal, resulting in inflation in as little as 1/20th of a second. Some airbag systems will even go off based on whether a person is wearing a seatbelt. If, for instance, a system senses that a person is unbelted, then the airbags would deploy at lower speeds, only going off, however, for belted occupants, when the impact indicates a higher speed. Front airbags have been mandatory in all new vehicles since the late 1990's. They are not, however, the only types of airbags with which most vehicles are equipped. Other airbag innovations include:
Side airbags, which are usually placed in the sides of seats and protect occupants in t-bone collisions;
Far-side airbags, which prevent drivers and passengers from colliding with each other upon impact;
Knee airbags, which protect a driver or passenger's legs during a collision by distributing the force of impact;
Rear window curtain airbags, which are designed to protect occupants of the backseat; and
Inflatable safety belts, which reduce the risk of chest injuries in back seat occupants.
While these airbags do offer significant protection, they can also cause injury.
Common Airbag Injuries
To be effective, airbags have to deploy at an extremely high rate of speed. Unfortunately, this leaves occupants at risk of suffering certain kinds of injuries when they come into contact with those airbags, including:
Facial fractures;
Broken or crushed bones;
Traumatic brain injuries (TBIs), like concussions;
Internal injuries, like internal bleeding;
Neck and back injuries, including whiplash and disc herniation;
Friction or chemical burns to the face or arms; and
Abrasions and lacerations, especially to the face and arms.
Symptoms of these injuries range from severe abdominal pain for internal injuries, neck and shoulder pain for muscle strains, headaches and dizziness for TBIs, and damage to the skin from lacerations and burns. Fortunately, accident victims who sustain these kinds of injuries can still recover compensation for their medical bills and lost wages, even if their airbags deployed properly.
Call Today to Set Up an Initial Consultation 
For an assessment of your own recovery options following a car accident-related injury, please call dedicated Altamonte Springs car accident lawyer Sarah Goldman Geise at Goldman Law, P.A. today. You can set up an appointment with us by calling 407-960-1900, or by completing one of our online contact forms. A member of our legal team is standing by and eager to get started on your case.
Sources:
iihs.org/topics/airbags
nhtsa.gov/equipment/air-bags