Florida Roadway Hazards You May Encounter After A Hurricane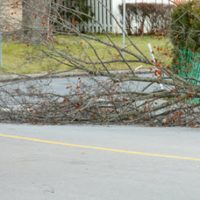 Much of southwest Florida is still recovering from the devastation caused by Hurricane Ian, a Category 4 hurricane that caused winds of up to 150 miles per hour. The storm destroyed parts of the west coast of Florida, bringing not only high winds, but also storm surges, and heavy rainfall. An estimated four million people in Florida were left without power, 100,000 of whom still lack it. Although the storm has moved on, dissipating over southern Virginia, it left devastation in its wake, much of which has still not been remedied. There are, for instance, still a number of ongoing hurricane-related roadway hazards for motorists, pedestrians, and cyclists alike.
Flooding-Related Hazards
While motorists should avoid driving during a big storm at all costs, it's also important to try and stay off the roads immediately following a major hurricane, as a lot of the roadway hazards caused by the storm persist for days, weeks, and even months. While flooding, for instance, has receded, it has created new dangers, like:
Non-functioning traffic signals;
Damaged road signs;
Downed electrical wires;
Damaged and washed out roadways; and
Roadway debris.
If you were involved in an accident because of this type of storm-related roadway hazard, feel free to reach out to a member of our legal team for an explanation of your legal options.
Traffic Congestion
Hurricane-related roadway hazards have led to a significant increase in traffic, as well as long delays, a problem that has been exacerbated by the thousands of contractors, insurance adjusters, and non-profit employees who have traveled to Florida to help with the clean-up. The resulting gridlock, while proving frustrating for many drivers, is also dangerous, especially for the many Florida residents who have been forced to walk or ride bicycles because their vehicles were damaged in the storm.
Many others, on the other hand, are driving vehicles that, while they weren't washed away in the flood, or damaged to the point of being non-functioning, did sustain water damage. This type of damage can result in decreased braking power, warping, and even outright brake or engine failure, all of which can prove dangerous for motorists if a vehicle suddenly stops while driving. The best way to ensure that this doesn't happen to your car is to take it in for an inspection if you suspect that it sustained some type of flooding-related damage during Hurricane Ian.
Schedule a Meeting with a Dedicated Maitland Car Accident Lawyer
The high winds, heavy rainfall, flooding, and storm surges that accompanied Hurricane Ian wreaked havoc on the state's roadways, creating problems that will likely take many months to fix. In the meantime, we should all use as much care as possible when driving, walking, and cycling on local roads. Unfortunately, even the most careful of drivers, pedestrians, or cyclists could end up involved in an accident because of someone else's negligence. If this happened to you or a loved one, don't hesitate to reach out to an experienced Maitland car accident lawyer for help. You can reach a member of our legal team by calling Goldman Law, P.A. at 407-960-1900 today.
Sources:
nesdis.noaa.gov/news/hurricane-ians-path-of-destruction
wusfnews.wusf.usf.edu/weather/2022-10-12/central-florida-counties-survey-road-damage-floodwater-hurricane-ian-recedes