Florida's New Texting While Driving Ban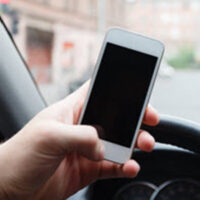 In an effort to address the increasing number of distracted driving-related car accidents occurring on Florida roads, state legislators recently passed a new law, known as the Florida Ban on Texting While Driving Law. Aside from facing potential fines and the accumulation of points on one's driver's license, those who are found to have violated this law by operating a vehicle while texting, emailing, or instant messaging could also be held liable for related damages if their conduct caused an accident. For help determining whether another driver's negligence, including texting while driving, was the cause of your own collision, please contact an experienced Maitland car accident lawyer who can walk you through your legal options.
Texting While Driving in Florida
Under Florida's new texting while driving ban, motorists are prohibited from operating a vehicle while:
Manually typing multiple letters, numbers, symbols, or other characters into a wireless communication device; or
Sending or reading data on an electronic device for the purpose of non-voice communication.
Texting, emailing, and instant messaging all satisfy this definition and so are not permitted while driving on Florida roads. It's also important to note that the new texting while driving ban only applies to wireless communication devices, which includes any device that can be used in a handheld manner and that is designed to:
Receive or transmit text-based messages;
Access or store data; or
Connect to the internet or a communications service that allows texting.
Motorists who are engaged in texting activities on devices that satisfy this definition could be held liable for resulting damages if their actions result in a collision.
Violating Florida's Texting Law
When a motorist's negligence causes a collision, the injured party can obtain the at fault driver's phone records and obtain testimony or written statements from law enforcement officers to determine whether the driver in question was texting at the time of the crash. Those who are found to have violated this law will not only be considered to have committed a traffic infraction, but could also be held liable for accident-related damages, compensating the injured party for:
Past and future medical expenses;
Lost wages;
Property damage;
Loss of future income;
Permanent disfigurement or disability;
Emotional distress;
Pain and suffering; and
Punitive damages
Injured parties will need to provide strong evidence in order to recover these damages, which, aside from cell phone usage records could also include photographs from the scene of the accident, video recordings of the crash and eyewitness testimony. Unfortunately, collecting this evidence can be complicated, so if you were injured in an accident that you believe was the result of distracted driving, it is important to speak with an experienced attorney who can begin investigating your potential claim.
Contact Our Office Today
To speak with an experienced Maitland car accident lawyer about your own legal options following a serious collision, please call Goldman Law, P.A. at 407-960-1900 today. You can also reach a member of our legal team by completing one of our brief online contact forms.
Resource:
miamisprings-fl.gov/police/new-florida-law-makes-texting-while-driving-primary-offense