Not Wearing A Seat Belt Can Affect The Outcome Of Your Car Accident Claim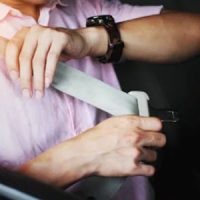 The importance of buckling up when driving cannot be overstated. For instance, the National Highway Traffic Safety Administration (NHTSA) estimates that seat belt use saved nearly 15,000 lives in 2017 and could have saved another 2,549. Furthermore, wearing a seat belt isn't just a good idea in Florida, but is actually legally required. Failing to wear a seat belt increases a person's chances of suffering a serious injury, but it can also negatively impact his or her car accident claim and chances of successfully recovering damages for crash-related losses.
Applying the Seat Belt Defense
Wearing a seat belt doesn't change who was responsible for a crash. If, for instance, a driver ran a red light and collided with another vehicle in an intersection, the victim still couldn't be blamed for causing or contributing to the crash. If, however, that person wasn't wearing a seat belt, the defense's legal team will most likely argue that his or her injuries would have been severely reduced if he or she had worn a seatbelt. In this way, claimants can be said to have contributed to the worsening of their injuries, although perhaps unintentionally. This is known as the seat belt defense and it is often raised by at-fault parties in an attempt to lower the amount for which they can be held liable after an accident. Whether this defense is successful will depend on the series of events that led up to the accident and the severity and type of the victim's injuries.
The Comparative Negligence Standard
Some judges and juries will lower an accident victim's damages award in these cases under the legal theory of comparative negligence. This legal standard states that while injured victims who contribute to their own accidents in some way won't automatically be barred from recovery, they can have their damages awards reduced in proportion to their degree of fault in causing or worsening their injuries. Ultimately, whether a victim's damages are reduced, or by how much they are reduced will depend on the facts of a case. If, for instance, a plaintiff can prove that wearing a seat belt would not likely have prevented an injury, his or her lack of seat belt usage might not play a role in the final damages award. A plaintiff's ability to establish this will depend on the strength of the evidence at his or her disposal, including whether he or she can rely on convincing expert testimony.
Reach Out to Our Legal Team for Help
Failing to wear a seat belt could have significant repercussions for a motorist, making it more likely that he or she will suffer a serious injury, but also potentially affecting the outcome of any legal claim stemming from the crash. For an assessment of the strengths and weaknesses of your own accident case, reach out to dedicated Altamonte Springs car accident lawyer Sarah Goldman Geise at Goldman Law, P.A. by calling 407-960-1900 today. You can also schedule a free case review with a member of our legal team by sending us a brief online message.
Sources:
nhtsa.gov/risky-driving/seat-belts
leg.state.fl.us/statutes/index.cfm?App_mode=Display_Statute&URL=0700-0799/0768/Sections/0768.81.html