Handling A Single-Vehicle Accident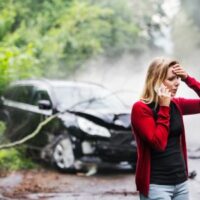 Of the many types of car accidents in which a person can be involved, there is one that doesn't get discussed very often: single-vehicle crashes. As its name suggests, this kind of crash only involves a single vehicle. This does not mean, however, that the consequences of a single-vehicle collision aren't severe. In fact, single-vehicle accidents can be just as serious, or even more so, than typical collisions involving two vehicles. Furthermore, while it may seem like determining fault in this kind of accident would be simple, it can actually be quite difficult, so if you were involved in a single-vehicle collision, but weren't driving in a negligent or reckless manner, you should speak with an experienced Altamonte Springs car accident lawyer, who can help you investigate the cause of your accident.
Causes of Single-Vehicle Accidents
The causes of a car accident can be complex when only one vehicle is involved in the crash. While there may not be any other vehicles involved in the collision, another driver could still have contributed to the crash. If, for instance, another driver was driving erratically and someone else had to swerve out of the way to avoid a collision, lost control of the vehicle, and collided with a street light, the initial driver could bear some blame for the crash. Weather conditions can also contribute to these kinds of accidents, as can road hazards, like potholes, cracks in the asphalt, or road construction. In some cases, a crash can actually be attributed to the sudden failure of a vehicle part that was defectively designed or produced by a manufacturer. In all of these situations, an injured accident victim could attempt to recover compensation from someone else who contributed in some way to the collision.
Recovering Compensation
Florida is a no-fault auto insurance state, which means that the victim of a single-vehicle accident will still need to seek medical compensation from his or her own insurer first. However, single-vehicle collisions often involve serious property damage and physical injury, so it is not uncommon for injured victims to find themselves exceeding the limits of their policies. When this happens, the injured party could attempt to recover compensation from someone else who contributed to the crash. Potentially liable parties include:
A third party contractor or government agency responsible for roadway maintenance if debris in the road, weather erosion, potholes, overgrown signs, or improper road design led to an accident;
Another driver who contributed to the accident; or
A vehicle or part manufacturer if the accident was caused or worsened by a vehicle defect.
Fortunately, even if a driver is deemed to be partially at fault for a single-vehicle collision, he or she could still be entitled to some sort of recovery under the rules of comparative negligence.
Injured in a Single-Vehicle Crash?
Please reach out to us at Goldman Law, P.A. if you are curious about how an experienced Altamonte Springs car accident lawyer can help you obtain the compensation you deserve after a single-vehicle crash. Call us at 407-960-1900 to learn more.