How Long Does it Take to Resolve a Personal Injury Case?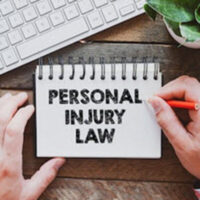 How long it takes to resolve a personal injury case, whether through litigation or settlement, depends on a number of factors, including the strength of the plaintiff's evidence, the severity of the victim's injuries, and the number of people involved in the accident. Having an experienced attorney on your side who can help protect your legal interests is also critical to the outcome of a personal injury case, so if you were recently injured in an accident through no fault of your own, it is important to speak with an experienced Altamonte Springs personal injury lawyer who can evaluate your case.
Who Was Responsible for the Accident?
Determining who was at fault for an accident plays a critical role in not only how much a person is able to recover in compensation by filing a personal injury claim, but also how long it will take to resolve the case. If, for instance, it is clear that one party was 100 percent at fault for a car accident, the at-fault party is much more likely to settle a case in an out-of-court setting than risk a jury issuing a larger damages award. If, on the other hand, the issue of fault is more unclear, the at-fault party may be willing to go to court to litigate the issue, which will undoubtedly result in a longer wait for the victims.
How Severe are the Plaintiff's Injuries?
Like cases that involve someone who was clearly at fault for an accident, cases in which a victim was seriously injured tend to be resolved more quickly. This is largely due to the fact that it is often easier for a plaintiff to prove that he or she is entitled to a large damages award when that individual is suffering from a severe injury. If an injury appears less serious, on the other hand, the legitimacy of the plaintiff's claim for damages may be questioned, or require the presentation of additional evidence to back up the claim, all of which takes time.
Is the Cause of the Plaintiff's Injuries Clear?
All negligence-based cases require proof that a defendant was careless and that his or her lack of care resulted in the plaintiff's injuries. While this isn't always a difficult element to fulfill, it can raise difficulties. If, for instance, a person was rear-ended and sustained a back injury, but had suffered from back problems in the past, a defendant's attorney will likely argue that his or her client isn't actually responsible for the plaintiff's medical bills and lost wages. The more clearly a person's injuries are related to an accident, the better his or her chances will be that the case is resolved quickly.
Speak with a Member of Our Altamonte Springs Legal Team Today
Resolving a personal injury case can take anywhere from a few months to years. Please call 407-960-1900 to speak with an experienced personal injury lawyer at Goldman Law, P.A. about the strengths and weaknesses of your own case and how long it will likely take to resolve your legal issue.
Resource:
leg.state.fl.us/statutes/index.cfm?App_mode=Display_Statute&URL=0700-0799/0768/Sections/0768.81.html