5 Things to Do After a Rideshare Accident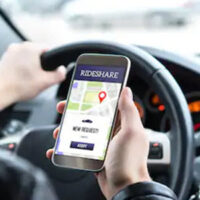 Accidents involving a rideshare service like Uber or Lyft often come with an added layer of complexity, as they typically involve negotiations with multiple insurance companies, all of whom are trying to avoid liability. There are a few things, however, that car crash victims can do after being injured in an accident caused by or involving an Uber or Lyft driver that can help their case go more smoothly. To learn more about establishing liability for your own collision, please reach out to our experienced Maitland car accident lawyers for help.
Seek Immediate Medical Attention
Anyone who is involved in a collision with a rideshare service should be sure to obtain medical care as soon as possible after the accident. Taking this step can help establish that a person really was injured in a crash, while also demonstrating the severity of those injuries, which in turn, can affect how much a person can collect, either from an insurer or in court. In fact, in Florida, car accident victims must seek medical attention within 14 days of their crash or their no-fault PIP coverage will not cover related medical bills or lost wages.
Take Photos at the Scene of the Accident
Those who are not seriously injured in an accident should also be sure to take photographs at the scene of the crash, specifically of the damage sustained by the vehicle, the location of the crash, and any accident-related debris. This kind of evidence can make all the difference in the outcome of a case, helping to establish fault for the accident, as well as the severity of vehicular damage. Accident victims who are too injured to remain at the scene may want to consider asking any passengers who were not injured in the collision, or family members to take photos on their behalf.
Collect Witness Contact Information
Collecting the contact information, including the names, addresses, and phone numbers, of anyone who saw the accident take place can play a critical role in proving what actually happened at the time of a crash. This is especially important in cases where one or more parties are disputing their role in causing a crash. Although this information can often be obtained from the police report created after the accident, motorists are still generally encouraged to collect this information on their own, as police reports are often not submitted for a number of days.
Speak with an Attorney as Soon as Possible
If possible, motorists who are involved in crashes with an Uber or Lyft driver should speak with an attorney as soon as possible. While motorists are required to report accidents involving rideshare services immediately, those who retain an attorney can avoid having to speak with the company's insurers on their own. This is important, as insurers are notorious for trying to twist the statements of claimants to suit their own purposes of avoiding liability for an accident.
Speak with Our Maitland Car Accident Legal Team Today
If you would like to speak with an experienced Maitland car accident lawyer about your own Uber or Lyft collision, please call Goldman Law, P.A. at 407-960-1900 for a free consultation.
Resource:
leg.state.fl.us/Statutes/index.cfm?App_mode=Display_Statute&URL=0600-0699/0627/Sections/0627.736.html